Supposedly my great-grandmother used to make these all the time and they're a family tradition. My mom and I made them this year and prior to that I'd never heard of them.....
WARNING: To make these cookies you'll need some sort of mold. One with the same designs as ours is pictured below. It is $10 on eBay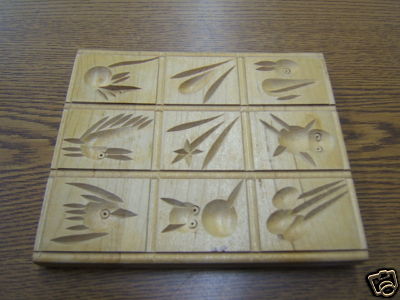 -------------------------------
Ingredients:
* 4
extra large eggs
* 2 cups extra finely granulated sugar
* 4 drops anise oil
* 4 1/2 cups cake flour, sifted
DIRECTIONS:
1. Beat eggs until thick.
2. Add sugar gradually, beating well between each addition until all is combined and then
beat for about 15 minutes.
3. Add anise oil and blend.
4. Fold in the flour lightly.
5. Let sit for 2-3 hours
6. Roll out dough about 1/2 inch thick.
7. Flour springerle mold carefully and press firmly into dough.
8. Remove mold and cut cookies along the line of imprint.
9. Flour mold each time it is used.
10. Place molded cookies on prepared cookie sheets
11. Let cookies stand overnight in a cool place to dry.
12. In the morning, preheat oven to 375°F.
13. Place cookies in oven and immediately reduce the heat to 300F for ten to fifteen minutes.
14. When baked the cookies should be light in color with the appearance of having been iced.
15. Keep the cookies in a tightly sealed can for two or three weeks before using to allow development of best flavor.
16. To soften cookies, place an apple in the can a day or two before using.
Basically, make these at Thanksgiving and eat them at Christmas.
For you people trying to be healthy, these cookies are fairly healthy for a dessert....
Each cookie is about 56 calories and fat-free with 5.6 grams of sugar.