Who knew there was so much fancy fruit out there?
We bought some blood oranges today. On the outside they look perfectly normal, just a little small: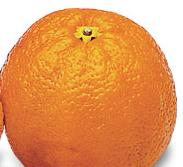 Once you peel it, it looks way different than a typical orange:
As for the taste, they taste similar to oranges, but vastly superior. They're somewhat sour. Supposedly they taste like regular oranges with a hint of strawberry and raspberry. I didn't pick up on that. Regardless, go out and buy some - they were just $1 a pound at Farmer's Market.
Coming Soon: A better signature!