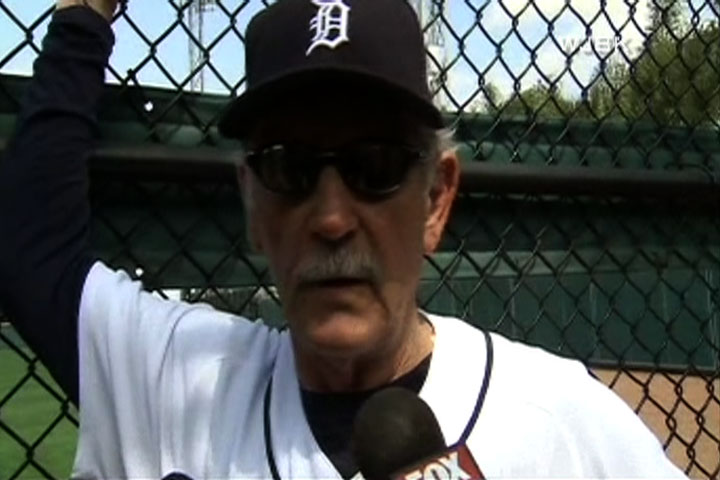 Click to see video: Tigers' confidence high for 2010
Leyland excited after first full workout
Tigers manager: 'We've got a lot of talent in this camp'
By Jason Beck / MLB.com
02/23/10 7:02 PM EST
LAKELAND, Fla. -- Jim Leyland believes he has a wary eye against getting too excited about Spring Training workouts. Eighteen years managing in the big leagues should help him avoid gushing too much about a good-looking rookie. He doesn't even like watching bullpen throwing sessions too closely for fear he'll overestimate a pitcher.
Still, after the Tigers' first full-squad workout Tuesday, he was fighting to contain his enthusiasm.Scott Sizemore
was able to go through a full workout, furthering the Tigers' optimism that the rookie second baseman will be ready for close to a full slate of Spring Training games.
"You have to try to get him ready," Leyland said, "yet we can't abuse him physically right now because of the [broken left ankle] injury he had. He's fine, but we've got to be careful. But he needs to get at-bats, and he needs to play this spring a lot."
Meanwhile, Leyland was able to watch his infielders and outfielders take batting practice for the first time this spring, allowing him a look at both his hitting prospects and his established veterans. In the case of Magglio Ordonez, Leyland was also able to give a listen.
"Magglio's got a whole different sound to the bat, totally different," Leyland said. "It sounds louder than it has since I've been here.
Totally different. Now, I don't know what that means, but it's loud. Real loud."
Then came the chance for Leyland and others to watch Detroit's hitting prospects in camp, from Casper Wells to Ryan Strieby, Brennan Boesch to Wilkin Ramirez, Alex Avila and others.
"I can tell you we've got a lot of talent in this camp," Leyland said. "I'm talking about down low [in the farm system] and up high. Are they all going to turn into big leaguers? I don't know about that, but there's a lot of talent here. I mean, it was an eye-opener out there today. There's some impressive swings and power out there. There's a lot of talent, and that's a good thing.
"There's guys hitting balls over trees, way over trees," Leyland continued. "You just don't see that.
When you have veteran players doing double-takes to watch a kid hit, that's usually a pretty good measuring stick."
For the first day of camp with the full squad, it's a really good thing. They still have a week to go before facing opponents -- they still have to face their own pitchers later this week, which should be a treat given the pitching talent -- but it certainly made Tuesday into an upbeat afternoon beyond the warm Florida sun.
"The first day of camp was exciting," Leyland said. "It went well. I'm really pleased with it."
Like four days ago with pitchers and catchers, Leyland met with infielders and outfielders Tuesday morning and gave them his speech. Among the topics was the end of last season, and moving on from the extra-inning American League Central tiebreaker loss to the Twins last October. It wasn't simply an order to forget about it, but also a caution to learn from it.
One more win, and the Tigers would've avoided the tiebreaker and won the division in 162 games. But that win didn't necessarily have to come in the final week of the season.
"A win in April and May is just as important as a win in September," Leyland said. "If there was ever a case of that, it was last year. If we had won a game April 18 or 19 -- I don't know, maybe we did -- maybe we're in the postseason.
I think it's important to let them know how valuable wins are, how golden they are."
Actually, the Tigers won on both April 18 and 19. But they had plenty of other losses over the summer that could've served as an example, including those regrettably memorable defeats to Lenny DiNardo and the Royals.
Leyland insists he doesn't set goals for his team. His only goal is to be able to look at season's end and know that he got the most out of his team. Not surprising, he thinks his team is capable of quite a bit this year.
Of course, he said, other managers can look in their camp and believe the same thing. Leyland, for his part, knows his pitching needs to be his club's strength. But after watching his hitters work out, he couldn't help but feel upbeat.
It was a good day.
"I really like our team," Leyland said. "I like it a lot more than maybe some other people do."
Jason Beck is a reporter for MLB.com. This story was not subject to the approval of Major League Baseball or its clubs.