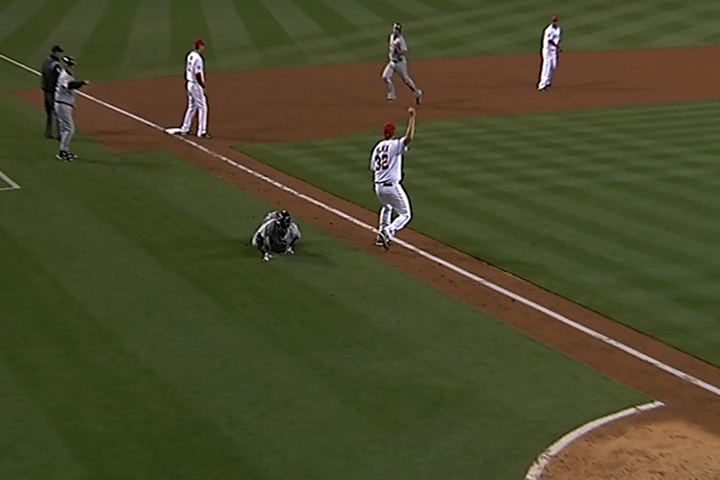 Guillen's injury
Duration: 00:01:14
4/22/10: Carlos Guillen leaves the game after getting hurt trying to score
Guillen strains hamstring, headed for DL
Tigers to recall Boesch for big league debut Friday
By Jason Beck / MLB.com
04/23/10 3:36 AM ET
ANAHEIM -- The Tigers will be without outfielder Carlos Guillen for at least two weeks. Guillen left Thursday's win over the Angels with a left hamstring strain after he slipped and fell on his way toward home on a would-be RBI single.
The team will put Guillen on the 15-day disabled list, effective Friday, and recall Brennan Boesch from Triple-A Toledo. Guillen said after the 5-4 victory over the Angels that he expects he should be ready to return when he's eligible to be activated.
Manager Jim Leyland said
Boesch
will be in the starting lineup Friday night at Texas, making his Major League debut. The Tigers, meanwhile, will be trying to juggle their lineup to replace a hitter Leyland called one of the keys to their offense this season.
"Carlos is a devastating loss," Leyland said, "because he's a professional hitter and he's behind [AL RBI leader Miguel] Cabrera and he's been swinging the bat well. So that's a killer. However, at the same time, you move forward. And I think, one thing this will do is it will keep some other guys sharp, because I'm going to be playing different guys now."
Guillen was on second base in the fifth inning when Scott Sizemore hit a two-out single to right-center. Guillen said his foot slipped just after touching third base, but he continued for a couple steps before he finally fell.
"When I took the bad step, my left leg opened a little bit," Guillen said. "I took another step, and that's when I fell."
That fall, Guillen said, caused the strain, not the other way around.
"I strained it because I fell," Guillen said.
Guillen fell chest-first into foul territory along the third-base line. He got back up, but could barely walk as Angels catcher Mike Napoli took the throw home and tagged him. Guillen kept on limping into the Tigers dugout, where head athletic trainer Kevin Rand escorted him into the clubhouse for medical attention.
Guillen said he did not feel a pop. He was able to walk off on his own power, and he was moving around relatively well after the game as he dressed for the team flight.
Guillen missed nearly 2 1/2 months last season to a shoulder injury suffered in an April crash against the fence in left field, and Detroit struggled to fill the void. His return in late July provided a spark to the Tigers' offense, though he was limited to DH for much of the home stretch.
Guillen has been an everyday player this season, primarily at DH, but started in left field Thursday. Don Kelly replaced him in the game for the bottom of the fifth. Johnny Damon normally starts in left field, so the Tigers have some flexibility to rotate players in the DH spot or left field in his place.
For Friday, at least, that replacement will be
Boesch, who leads the International League with 15 RBIs to go with a .352 average and three home runs.
He made an impression on the Tigers staff in Spring Training, and he'll provide an instant power bat once he joins the team in Texas on Friday.
"He's got big-time power," Leyland said. "I like him. I didn't figure on [his call] being this soon."
Kelly and Ryan Raburn are also likely to get some extra playing time, Leyland said. Both have made spot starts in the outfield.
Jason Beck is a reporter for MLB.com. This story was not subject to the approval of Major League Baseball or its clubs.