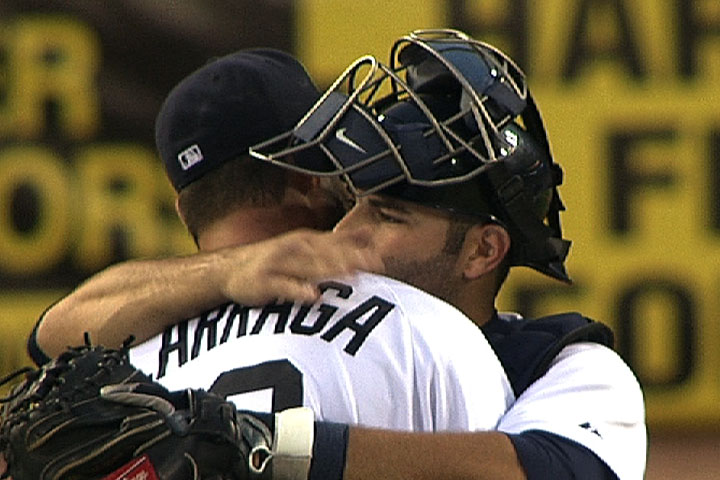 Galarraga, Rasmus named week's best
By Bailey Stephens / MLB.com
06/07/10 5:20 PM ET
Armando Galarraga may not have gotten his perfect game, but he has gotten plenty of recognition for his effort.
On Monday, the Tigers' pitcher was honored further by being named the Bank of America American League Player of the Week,
joining the Cardinals' Colby Rasmus in the National League as the weekly winners.
Galarraga, of course, lost his perfect-game bid last week with two outs in the ninth inning. Jason Donald was ruled safe on a infield grounder that was later deemed to be a missed call by umpire Jim Joyce. But Galarraga still completed his first complete game. He was just the third pitcher to throw 26 consecutive outs without recording the perfect game, joining Mike Mussina (2001) and Pedro Martinez (1995).
"It is what it is," Galarraga said. "Nobody can change it now. I know all of you guys are happy and believe I threw a perfect game. All the time, when people ask how many perfect games and people say 20, you are going to mention my perfect game. It's more special, because I threw a perfect game with 28 outs."
It was comments like that, showing Galarraga's character and grace at such a moment, that also garnered recognition this week. He even shared several moments with Joyce, both after the game itself and before the next day's contest, when he carried out the lineup card as a gesture of goodwill.
"He understands," Galarraga said of Joyce. "I give him a lot of credit for coming in and saying, 'Hey, I need to talk to you to say I'm sorry.' That doesn't happen. You don't see an umpire after the game come out and say, 'Hey, let me tell you I'm sorry.' He apologized to me and he felt really bad. He didn't even shower. He was in the same clothes. He gave me a couple hugs."
Rasmus didn't complete as grand an effort as his fellow winner, but still had a week for the ages.
The center fielder scorched at the plate, finishing the week with a slugging percentage of 1.000 and a .500 average (11-22). Rasmus also had four multi-hit games, and launched three homers.
What's fueling the young outfielder's sizzling hitting? One possible answer could be his new contact lenses.
"It definitely helps," Rasmus said of the new contacts, which he began using on Tuesday. "But I've been working on my swing a little bit and I think that's the main thing.
One of his greatest performances of the week came on Saturday, when his 11th-inning single capped a 3-for-4 day and lifted the Cards to victory over the Brewers. He had three RBIs in that game alone.
"Colby was clutch all day against some tough pitching," said La Russa. "He's going to have a good career getting clutch hits. He doesn't panic in those situations."
He continued his torrid hitting on Sunday, launching his second home run of the season before having to leave the contest due to calf tightness. He is day-to-day and the injury is not believed to be serious.
Bailey Stephens is a reporter for MLB.com. This story was not subject to the approval of Major League Baseball or its clubs.