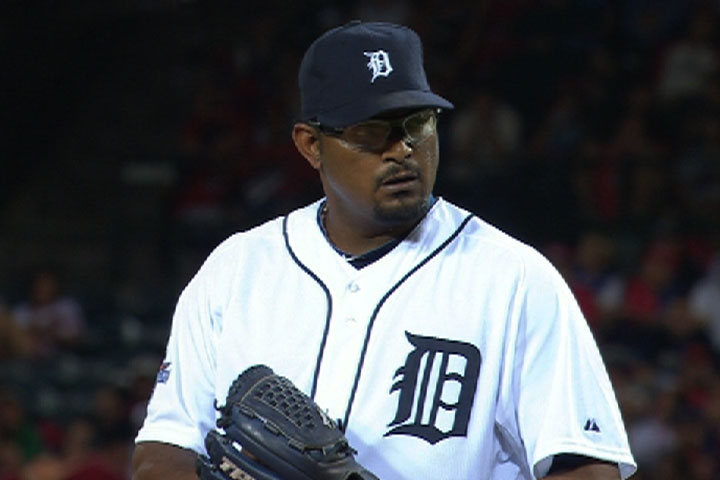 7/13/10: Jose Valverde strikes out the side to throw a perfect ninth inning
Valverde's outing caps Tigers' All-Star effort
Closer K's side in ninth; Verlander, Cabrera make contributions
By Jason Beck / MLB.com
07/14/10 2:28 AM ET
ANAHEIM -- Jose Valverde always celebrates his strikeouts a little, save situation or not. He was definitely going to celebrate these.
Valverde didn't get a chance to finish off another American League victory in the All-Star Game like he had hoped, and like AL manager Joe Girardi had planned.
But in keeping the AL within two runs by striking out the side
in order in the ninth inning, he had given them a chance to come back. And he had given a couple old teammates some grief in the AL's 3-1 loss to the National League on Tuesday.
Before the Midsummer Classic, Valverde ran into his old D-backs teammate, Chris Young, who had two game-ending popouts against him during their series at Comerica Park last month. Having seen Valverde celebrate twice already this season, Young set up a good-natured challenge.
"We've been friends for a long time," Valverde said. "He wanted to hit a home run. And after that, he told me he wanted to [celebrate] it, too. I said, 'You can do whatever you want to.' But if I strike him out, I'm dancing."
Not only did Valverde tell Young he'd strike him out, he told him how: split-fingers.
"He told me he was going to throw me three of them," Young told reporters afterward, "but I figured he would try to mix a fastball in."
Valverde told MLB.com on Monday night he'd throw all split-fingers if he had a save situation. The situation wasn't as predicted, but after a first-pitch fastball,
the splitters were all low and away. Young swung and missed at all three of them, badly.
"I tried to stay on the fastball, and he did his little Valverde hop on me," Young said.
Said Valverde: "Nothing I can do. If he swings, I throw it again."
Valverde had already done the hop on another ex-teammate, this one from his previous two seasons in Houston. Michael Bourn led off the inning and got the same mix, and he ended up with the same result. He took a fastball for strike one, then swung and missed at back-to-back splitters to quickly end his first All-Star plate appearance.
"He's a good kid, plays hard," Valverde said. "But now, it's a different situation. He's not my partner no more. I had to throw split-fingers to him, too."
Byrd has never been a Valverde teammate, but he also had a hit off Valverde once. He battled Valverde for eight pitches, the last six of them splitters. He fouled off two of them to stay alive with a full count, but he couldn't resist the one over the plate. He swung and missed at that one, too.
Once again, Valverde hopped, clearing the third-base line on his way back to the dugout. He couldn't save the AL, but he at least gave them a shot.
Valverde was the third Tigers player to get into the game.
Miguel Cabrera
became the first Detroit player in the starting lineup since 2007 and earned his first All-Star hit in six at-bats, lining an opposite-field single with one out in the opening inning off NL starter Ubaldo Jimenez.
"It was tough, because you can't see the ball very well," said Cabrera, referring to the late-afternoon start and the shadows at Angel Stadium. "I just wanted to stay inside on the ball."
Cabrera got the showdown he wanted in his other at-bat, meeting up against former Marlins teammate Josh Johnson leading off the bottom of the fourth. He got the pitch he wanted on a 2-0 count, but grounded it to third.
"That's my guy," Cabrera said earlier.
Justin Verlander
, a last-minute addition to the AL roster, pitched the top of the fifth and had the kind of inning that seemingly fit some of his starts for Detroit, working his way in and out of trouble in a 20-pitch grind. David Wright's leadoff single and stolen base nearly set up a run when Andre Ethier hit a line-drive single into right field, but Wright was held at third rather than test Josh Hamilton's arm.
Verlander, whose fastball topped out at 99 mph early and often, answered by sending down Corey Hart check-swinging at a 91-mph slider. With the sacrifice fly no longer an option, Verlander went heavy to the fastball on Brian McCann, who pulled a 99-mph heater to right for a fly ball that took Hamilton to the track before he made the catch for the third out.
Jason Beck is a reporter for MLB.com. This story was not subject to the approval of Major League Baseball or its clubs.