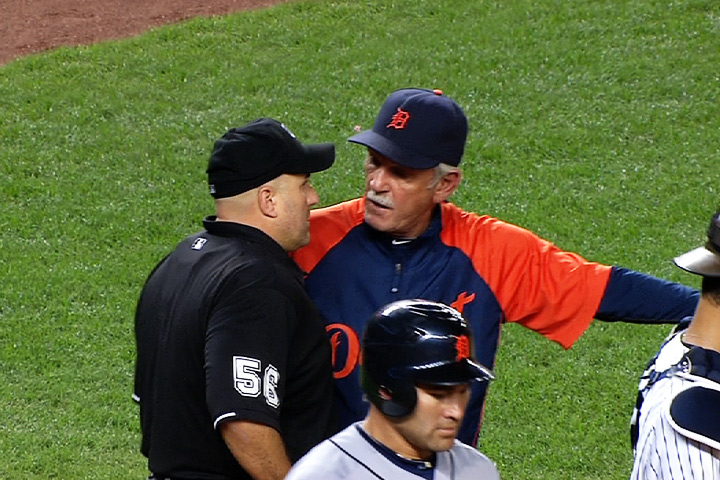 Leyland ejected but not pitchers
Duration: 00:02:46
8/18/10: The only ejection after benches are warned in the first is Jim Leyland, who protests the non-ejection of Chad Gaudin
Tigers, Yankees downplay hit-by-pitches
Bonderman plunks Gardner; Cabrera struck in ribs by Gaudin
By Jason Beck / MLB.com
08/19/10 12:34 AM ET
NEW YORK -- On the same day the Tigers put Carlos Guillen on the disabled list with a severely bruised left knee suffered on Brett Gardner's slide Monday night, they saw MVP candidate Miguel Cabrera take a fastball in the ribs.
In between, Jeremy Bonderman's first pitch of the night hit Gardner in his right leg, a little below his knee. After the pitch to Cabrera, Detroit manager Jim Leyland got into an argument with home-plate umpire Eric Cooper that was caught on the Tigers' local broadcast.
If there was tension in either clubhouse over Wednesday night's events, they were doing their best not to show it.
"I was very calm the whole game," said Leyland, whose third ejection of the season capped one of many differences he has had with umpires this year.
"I don't know. I don't care," Cabrera said when asked whether he felt he was hit on purpose.
"I don't know if it was [intentional] or not. That's not for me to judge. It doesn't really matter," Gardner said of Bonderman's pitch.
"I think guys can tell when you're doing it on purpose. I didn't," said Yanks reliever Chad Gaudin, whose eighth-inning pitch hit Cabrera. "This is baseball. It happens."
Still, what nearly happened could've been much worse.
"It almost got very ugly," Tigers infielder Ramon Santiago said.
The roots of this eventful evening date back to the last play of Monday's series opener. Trailing, 3-1, the Yankees had the bases loaded, and had Tigers closer Jose Valverde struggling to throw strikes. Derek Jeter hit a grounder to short that started a double play to end the game. The final out came from a relay throw from Guillen, who fired to first as Gardner slid hard into his left leg.
Guillen limped off the field as the Tigers celebrated their win. Neither he nor Leyland initially felt like the slide was dirty,
but Guillen hedged on that opinion a day later.
"I saw a replay when I got [to the hotel], and it looked different," Guillen said Tuesday.
Gardner wasn't saying one way or the other Wednesday.
"Maybe so," he said. "I don't know if it was intentional or not. If it was, so be it. If it wasn't, so be it. Obviously if there were some hard feelings from what happened the other night, I would have thought something would have happened [Tuesday]."
The diagnosis on Guillen's knee changed, too. What was initially thought to be a day-to-day injury turned out to be a severe bone bruise that will keep Guillen out two to three weeks, adding to the long list of Tigers injuries this season.
Nothing happened in Tuesday's game, but when Bonderman took the mound to face Yankees leadoff man Gardner and begin his outing Wednesday, he immediately put the incident back in the spotlight. His first pitch of the night hit Gardner.
Cooper immediately warned both teams, giving him the right to eject both a pitcher and his manager if any other incidents ensued.
Bonderman, who served a three-game suspension at the start of the season for hitting Minnesota's Delmon Young in the final days of last season, moved on when asked about intent. Was he surprised when warnings were issued?
"It's part of the game," Bonderman said.
Gardner downplayed it.
"If they want to hit me and put me on base, I'm happy with it, as long as I don't get hurt," Gardner said.
Leyland shut down the question of intent.
"Next question," he said.
If it was intentional, it might've been Bonderman's best-located pitch of the inning. Back-to-back home runs from Mark Teixeira and Robinson Cano put New York ahead, and nothing further happened until the eighth.
Gaudin entered the inning with a 9-4 lead and Cabrera, who homered twice earlier, leading off. His 1-1 pitch rode in on Cabrera and hit him in his upper right ribs. Cabrera initially looked shaken, but took his base. Gaudin, meanwhile, stayed in the game.
That drew Leyland out of the dugout and into a heated argument with Cooper. He wasn't arguing that Gaudin should be automatically ejected since there had been warnings. That's "not necessarily" the rule, he said after the game.
"I think it's still the discretion of the umpire to make the decision whether he was thrown at or not," Leyland said. "And in this particular case, Eric made that decision, which I respect.
I do not agree with it."Gaudin said he didn't know there was a warning, and didn't throw at Cabrera intentionally.
"It got away," he said. "I was trying to throw a sinker in and it got away. Simple as that."
Yankees manager Joe Girardi, who asked his pitcher about it, supported him and used his club's bullpen situation as evidence.
"I point-blank asked Chad, 'Did you do that on purpose?' He said, 'No,'" Girardi said. "I feel bad that it got to that, because on a night that I don't want to use [David] Robertson or [Mariano Rivera], I've got to get them both in the game."
Cooper declined comment to a pool reporter after the game, saying his version of the events will be in his report to the Commissioner's Office.
That report will include his ejection of Leyland at inning's end as Leyland continued to argue from the dugout. That sent the Tigers' manager out of the dugout and back at Cooper. At one point, the FSN Detroit broadcast picked up Leyland's argument on its field microphone, and suggested Leyland was arguing a double standard.
"They're going to the playoffs," Leyland was caught saying. "I'm not going anywhere."
Leyland wouldn't get into a discussion about it. Still, his comments about Cabrera's night were telling.
"He's great, obviously," Leyland said. "There's no question about that. We just have to make sure that he stays a great player."
Tigers long reliever Enrique Gonzalez, who finished off the seventh, stayed in for the eighth to face the top of the Yankees' order, starting with Gardner. He threw a pitch behind Jeter and another inside on Teixeira, but never hit anyone. Nothing happened.
Jason Beck is a reporter for MLB.com. Bryan Hoch contributed to this report. This story was not subject to the approval of Major League Baseball or its clubs.